ARTIST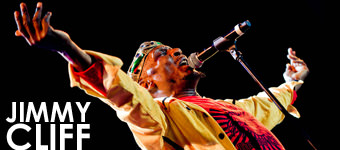 BIO
Sa contribution à la Jamaïque est telle qu'il est le seul artiste décoré de l'Ordre du Mérite, la plus haute distinction décernée par le gouvernement de l'île. Consacré en 1972 avec le film "The Harder they come", Jimmy Cliff est la première star internationale du reggae, inscrit au Hall of Fame depuis 2010.
Mondialement connu en 1972 grâce au film de Perry Henzell, "The Harder they come", Jimmy Cliff compte près de cinquante ans de carrière, scandés par des hits internationaux : Many rivers to cross, I Can see clearly now, Reggae Night, Hakuna Matata ou encore Melody Tempo Harmony avec Bernard Lavilliers...
Toujours actif et productif, Jimmy Cliff sortira en juin 2012 son nouvel album, "Re.Birth".

Artist
Nationality
Jamaican
Firstname / Name
James Chambers
Born on
04-01-1948
Website
www.jimmycliff.com
| | |
| --- | --- |
| - | Les premiers noms du Reggae Sun Ska 2015 (Mar 2015) |
| - | No Logo Festival avec Jimmy Cliff, LKJ, Midnite, Luciano, Anthony B… (May 2014) |
| - | Summerjam 2014, la programmation avance (Apr 2014) |
| - | Le Rototom Sunsplash 2014 annonce ses premiers artistes (Mar 2014) |
| - | No Logo Festival, deuxième édition (Mar 2014) |
| - | Le Summerjam ajoute Lutan Fyah, Perfect, Dubtonic Kru et Iba MaHr (Jan 2014) |
| - | Le Summerjam ajoute Dub Inc, Naâman, Johnny Osbourne et Lone Ranger (Dec 2013) |
| - | Jimmy Cliff emporte le Grammy (Feb 2013) |
| - | Grammy Awards : les nominations reggae (Dec 2012) |
| - | Broussai et Steel Pulse à la Une de Reggae Vibes (Nov 2012) |
| - | Ranchie McLean s'en est allé (Nov 2012) |
| - | Soul Train Awards 2012 : les nommés (Oct 2012) |
| - | Nouveaux noms au Reggae Sun Ska (Jul 2012) |
| - | Gagnez 10 places pour le concert de Jimmy Cliff à Paris (May 2012) |
| - | Reggae Sun Ska 2012, l'affiche se précise (May 2012) |
| - | Jimmy Cliff en tournée en France (Apr 2012) |
| - | Le Reggae Sun Ska sort la grosse artillerie (Apr 2012) |
| - | Le Summer Reggae Fest en approche (Jun 2011) |
| - | Garance Reggae Festival : le programme off (Jun 2011) |
| - | Gyptian rejoint le Garance Reggae Festival (May 2011) |
| - | Summerjam : programmation finalisée (May 2011) |
| - | Nouveaux noms au Garance Reggae Festival (May 2011) |
| - | Rototom Sunsplash : le programme se précise (Apr 2011) |
| - | ''The Harder They Come'', bientôt le remake (Apr 2011) |
| - | Nouveaux noms au Garance Reggae Festival (Apr 2011) |
| - | Le Rototom lâche de nouveaux noms (Mar 2011) |
| - | Le Garance Reggae Festival dévoile sa programmation (Mar 2011) |
| - | Summer Reggae Fest, et de 4 ! (Mar 2011) |
| - | Nouveaux noms au Summerjam (Feb 2011) |
| - | Premiers noms pour le Garance Festival (Feb 2011) |
| - | Summerjam : nouveaux noms dévoilés (Jan 2011) |
| - | Summerjam 2011, les premiers noms (Dec 2010) |
| - | Jimmy Cliff au Rock and Roll Hall of Fame (Dec 2009) |
| - | Culture Press de nouveau condamné (Apr 2009) |
| - | Déjà plein de concerts pour 2008 (Jan 2008) |
| - | Toronto film festival honors Jamaica (Sep 2006) |