ARTIST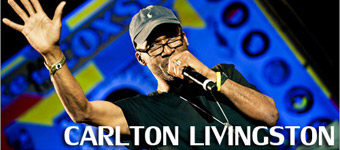 | | |
| --- | --- |
| | Lone Ranger sur le sound system Soul Express dans les années 70, Carlton Livingston a suivi un parcours très similaire. Originaire de la campagne, dans la paroisse de St-Mary où |
Interview du 09-17-2013









100 Weight Of Collie Weed (1984)




Trodding Through The Jungle (1983)





BIO
Compagnon de route de Lone Ranger sur le sound system Soul Express dans les années 70, Carlton Livingston a suivi un parcours très similaire. Originaire de la campagne, dans la paroisse de St-Mary où il naît en 1962, Carlton Livingston débarque à Kingston avec sa mère alors qu'il n'a que onze ans. Il connait une trajectoire classique des artistes jamaïcains : apprentissage du chant à l'église ("J'ai beaucoup appris grâce à ma mère et ma grand-mère en allant à l'église") puis l'école des sound systems. Ce sera les Fantastic Three, fondé avec des copains d'école, puis Soul Express. C'est là qu'il rencontre Lone Ranger mais à l'époque les rôles sont inversés : c'est Carlton qui fait le deejay tandis que Lone Ranger chante.

Carlton Livingston fait son premier enregistrement chez Channel One en 1977 (Tale of two cities) puis chez Studio One (Why, Here I Stand, Predictions), alors que Clement Dodd recherche de nouveaux talents.

Son premier album, "Soweto", sort sur le label Thrillseekers qui appartient à Chester Symoie (et ses frères), manager et grand ami de Lone Ranger.

A l'aube des années 80, alors en tournée en Amérique du Nord, il décide de ne pas rentrer sur l'île. C'est chez l'Oncle Sam qu'il enregistrera sa chanson signature, 100 lbs. a collie weed, pour Hyman Wright (le label Jah Life). Installé à Brooklyn, il y restera très lié, partageant désormais son temps entre la Jamaïque, le Maryland et New York.
Au fil des ans, Carlton Livingston a écrit plusieurs hits : Trodding through the jungle (GG's Records), Rumours (Dynamite Records), Tricks (pour le label Taxi de Sly & Robbie), ou Please Mr. DJ (produit par U Brown).
En France, le travail des sound systems Heartical et Soul Stereo redonne une exposition à cet authentique "dancehall singer". Il se produit notamment au Garance Reggae Festival en 2011 dans le cadre de la Studio One Revue, avec King Stitt, Dawn Penn, Willi Williams, Dillinger, Prince Jazzbo… Introduit par Lone Ranger en 2004, il collabore également à plusieurs reprises avec le Français Grant Phabao, sortant plusieurs singles (notamment la reprise de A message to you Rudie de Dandy Livingston avec Lone Ranger) Rudie" et un album en 2012, "Bridge of Life".
DISCOGRAPHY

BRIDGE OF LIFE
Date de sortie : 04-08-2012
Label : Colored Inc

Plus de détails


Tracklist :

01. Bridge of Life

02. Cry Tribulation

03. Rudie

04. The Life Of A Don

05. Running For My Life Feat. The

Lone Ranger

06. Sing Power To The People

07. Still Lamenting

08. Jackie Statement

09. Cherry

10. Could Be Bitter

11. Teenager In Love


EMOTIONS
Date de sortie : 1994
Label : Grapevine Records

Plus de détails



Tracklist :
01. No Doctor No Nurse
02. I Saw The Light
03. A No One Day
04. Rude Boys
05. We're In The Groove
06. Lied
07. Rob And Thief
08. Get Off Me Spot
09. Broken Heart
10. Come
11. Don't Believe
12. Poor Sam



100 WEIGHT OF COLLIE WEED
Date de sortie : 1984
Label : Greensleeves Records

Plus de détails



Tracklist :
01. 100 Weight Of Collie Weed
02. Making Love
03. Fret Them A Fret
04. I'm Your Lover
05. See Them A Come
06. Call Of The Rastaman
07. Never See Come See
08. Soundman Clash
09. If This Girl Was Mine
10. Let The Music Play



TRODDING THROUGH THE JUNGLE
Date de sortie : 1983
Label : Dynamite Records

Plus de détails


Tracklist :

01. Confusion

02. Leave It Behind

03. Lonely Man

04. Trodding Through The Jungle

05. Don't Follow Rumours

06. Marie

07. Don't You Remember

08. Feel Like Dancing

09.

Baby G

irl


SOWETO
Date de sortie : 1981
Label : El Bebo International

Plus de détails



Tracklist :
01. Soweto
02. The Wickeds
03. Rich Man Poor Man
04. Girl I Love You So
05. Red Eye People
06. Class Of 69
07. Tribute To Bobby
08. Children On The Mountain Top
09. Living As Poor Man


Artist
Nationality
Jamaican