ARTIST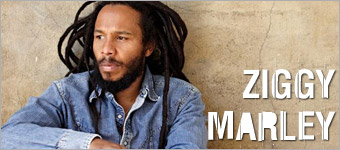 | | |
| --- | --- |
| | Bob Marley et de Rita Marley, Ziggy Marley est né le 17 octobre 1968, à Trenchtown. David Nesta de son vrai prénom se lance dès 1979 dans la musique en créant le groupe The Melody Makers |















BIO
Fils aîné de Bob Marley et de Rita Marley, Ziggy Marley est né le 17 octobre 1968, à Trenchtown. David Nesta de son vrai prénom se lance dès 1979 dans la musique en créant le groupe The Melody Makers avec ses frères et sœurs, Cedella Marley, Sharon Marley et Stephen Marley.

Onze albums et trois Grammy Awards plus tard, il est temps pour les Melody Makers (devenus "Ziggy Marley & The Melody Makers" dès le troisième album) de suivre chacun leur chemin. Ziggy Marley se lance en solo avec l'album "Dragonfly", en 2003. La consécration ne tardera pas : dès son deuxième album, "Love is my religion", sorti en 2006, il est récompensé par un nouveau Grammy Award.

En 2009, l'album "Family Time" lui vaut une nouvelle récompense, dans la catégorie Musique pour enfant. En 2013, il sort son premier livre, également à destination des enfants. Intitulé "I Love You Too", il est basé sur la chanson du même nom, extraite de l'album "Family Time".

Ziggy Marley a également créé la fondation U.R.G.E (Unlimited Resources Giving Enlightenment) qui oeuvre pour améliorer le quotidien des enfants, notamment en Jamaïque et en Ethiopie. Il a aussi fait quelques incursions au cinéma (il prête notamment sa voix dans le film d'animation "Gang de Requins", sorti en 2004), ou encore dans le jeu vidéo Rayman 3.
De son imagination est également né le héros de comic Marijuanaman, co-écrit avec Joe Casey et Jim Mahfood, sorti en 2011. Ziggy Marley a annoncé la sortie de son nouvel album, "Fly Rasta", pour 2014.
DISCOGRAPHY

FLY RASTA
Date de sortie : 04-15-2014
Label : Tuff Gong Worldwide

Plus de détails


Tracklist :

01. I Don't Wanna Live On Mars

02. Fly Rasta feat.

U-Roy

03. Lighthouse

04. Sunshine

05. Moving Forward

06. You

07. So Many Rising

08. I Get Up

09. You're My Yoko

10. Give It Away


IN CONCERT
Date de sortie : 12-18-2012
Label : Tuff Gong Worldwide

Plus de détails



Tracklist :
01. Higher Vibrations
02. Personal Revolution
03. Welcome To The World
04. Beach In Hawaii
05. Reggae In My Head
06. Jah Will Be Done
07. Forward To Love
08. Tomorrow People
09. Justice-War (medley)
10. Changes
11. True To Myself
12. Black Cat
13. Love Is My Religion
14. Is This Love
15. Wild And Free

(Sortie physique le 15 janvier 2013)



WILD AND FREE
Date de sortie : 06-14-2011
Label : Tuff Gong Worldwide

Plus de détails



Tracklist :
01. Wild and Free
02. Forward to Love
03. It
04. Changes
05. Personal Revolution
06. Get Out of Town
07. Roads Less Travelled
08. Mmmm Mmmm
09. Welcome to the World
10. A Sign
11. Reggae in My Head
12. Elizabeth



FAMILY TIME
Date de sortie : 05-05-2009
Label : Tuff Gong Worldwide

Plus de détails


Tracklist :

01. Family Time

02. I Love You Too

03. Cry, Cry, Cry

04. Take Me To Jamaica

05. Ziggy Says

06. This Train

07. Wings Of An Eagle

08. ABC

09. Hold Em Joe

10. Walk Tall

11. Future Man, Future Lady

12. My Helping Hands

13. Is There Really A H

Uman

Race


LIVE - LOVE IS MY RELIGION
Date de sortie : 02-11-2008
Label : Tuff Gong Records / XIII bis records

Plus de détails



Tracklist :
CD 1 :
01. Introduction
02. Make some music
03. Justice
04. Rastaman vibration
05. Be free
06. Tumbin' down
07. Concrete jungle
08. Still the storms
09. Lee and Molly
10. A lifetime
11. Is this love

CD 2 :
01. Tomorrow people
02. Looking
03. True to myself
04. Jamming
05. Look who's dancing
06. Dragonfly
07. Into the groove
08. No more trouble
09. Love is my religion

DVD
- Le concert intégral
- Bonus



LOVE IS MY RELIGION
Date de sortie : 12-04-2007
Label : Tuff Gong Worldwide

Plus de détails



Tracklist :
01. Into The Groove
02. Love Is My Religion
03. Make Some Music
04. Friend
05. Black Cat
06. Beach In Hawaii
07. A Lifetime
08. Be Free
09. Keep On Dreaming
10. Still The Storms
11. Love Is My Religion (Acoustic)
12. Be Free (Dub)




DRAGONFLY
Date de sortie : 03-31-2003
Label : Ziggy Music

Plus de détails



Tracklist :
01. Dragonfly
02. True To Myself
03. I Get Out
04. Looking
05. Shalom Salaam
06. In The Name of God
07. Rainbow In The Sky
08. Melancholy Mood
09. Good Old Days
10. Never Deny You
11. DYKL (Don't You Kill Love)


Artist
Nationality
Jamaican
Firstname / Name
David Nesta Marley
Born on
10-17-1968
Website
http://ziggymarley.com/