INTERVIEW : WAYNE MARSHALL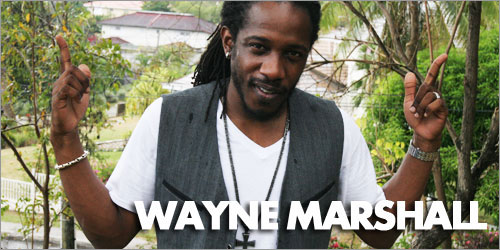 Interview by : Benoît Georges
Pictures by : Benoit Collin
le Wednesday, June 12th 2013 - 25 073 vues


En dépit de nombreuses rencontres, nous n'avions toujours pas d'interview de Wayne Marshall. C'est désormais chose faite : marié à Tami Chynn, il nous reçoit dans leur belle maison sur les hauteurs de Kingston, en toute simplicité. Nous nous entretenons alors qu'il est, selon ses propres dires, "à un tournant de [s]a carrière". Depuis ses débuts dans la musique, Wayne Marshall a su mener sa barque. Side-kick de Bounty Killer avec Elephant Man, puis avec Vybz Kartel à la naissance de l'Alliance, il reprenait le flambeau des chanteurs de dancehall.

Avec de nombreux hits à son actif, Wayne Marshall a su se maintenir à flot, et il travaille depuis l'an dernier à son nouvel album, aux côtés de Damian Marley et Stephen Marley sur leur label Ghetto Youth International. Intitulé "True Colors" (simplement parce qu'il montre mes vraies couleurs musicales"), on y retrouvera de nombreux invités : Junior Gong himself, Tarrus Riley, Capleton, Bounty Killer et même son propre fils de sept ans ("A son âge, il montre un amour et un talent véritables pour la musique"). Entretien.



Reggaefrance / You started in the business with the help of Ward 21, what is your background?
Wayne Marshall / Yeah, actually as a kid we used to casually have fun writing music. Then I moved a couple gates up the road from King Jammy. With Trevor, Jam2 and Jam Jam, the sons of King Jammy, we used to all hang out. We were young kids, running up and down, whatever, but they had the same love for music as me. Eventually they introduced me to Ward 21 who were selectors on the King Jammy's sound system at the time, but they gave a transition into the studio to become engineers. So they were our platform to get inside the studio and know how to use all the stuff. Jam 2 went more into the drum machines so he would build the riddims and we would sing on them at home and then go down to the studio and try to demo the songs. Ward 21 got their break soon after. Eventually they introduced me to the business. At that point, as kids we were always at the studio, we met Bounty Killer, Elephant Man, Determine, Nitty Kutchie, Capleton… all of these upcoming artists. That was inspiration for me you know. Bounty took me under his wing, that was really my break into the hardcore excellence of music.

What was your first professional recording?
It was Story don't tell on the Bada Bada riddim (produced by King Jammy -ed), when the riddim was just created. Then it was the Joint riddim (Champagne Wishes, -ed), Bellyas (Realize). There was also some earlier recordings with Jam2, some likke riddims that never really came out officially. We were doing our thing, you know? That's how it started for me.

You also teamed up with Vybz Kartel later, you were the two young artists under Bounty's wings…
Yes, very true! We met Kartel shortly after. I was in the music, people knew my name through Bounty and through that Ward 21 affiliation. We hooked up with Kartel, we saw him as a huge prospect for the future. His word play, his work ethic was something to be marvel at. We encourage him, gave him a platform at that time to come in the business, Bounty being the boss of course. That was exciting times in music for us.



Je suis fier de cet album, je pense qu'il sera un tournant dans ma carrière.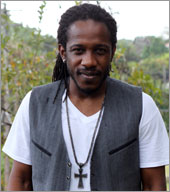 You got some huge hits together.
Yeah! His first breakout tune was New Millenium. I was on the hook. That was really Kartel's first time hearing himself on the radio and that type of things on a regular basis.

Don Corleon told us that Vybz Kartel was alone on the track and he said : "We gotta have a singer do that part" and called you.
Exactly, because I used to link with Don Corleon as well, from dem times earlier. Kartel always speaks about the time when he heard I was going to do the chorus for New Millenium. He was like: "Me like that! I get Wayne Marshall fi do the chorus!" That was crazy, back in the days. Once I recorded that song, I knew it was going to go.

More recently, you also teamed up with Sean Paul.
We've been doing a lot of work with Sean Paul. I've done some productions on his album "Tomahawk Technique". My first juggling riddim was the Matrimoney riddim. I thought about the riddim , I was walking through the home, singing "Good Ole Wife", and I came up with the riddim, walking around like a mad man. She couldn't really understand. I went to Washroom, whom I'm working with nowadays, and told them about the idea that I had. They created the riddim, and we did a joint project on production. I also did Wedding Crushes with Sean Paul and Future Fambo, which is on "Tomahawk Technique". That's a great look. I've been doing a lot of work with Sean Paul recently. He believes in my songs, and I give thanks for that.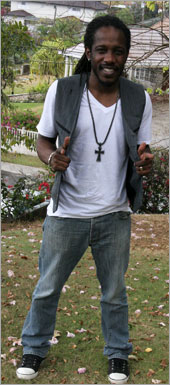 My heart was a big hit also, with Baby G.
Yeah! That was a great record. You know we have a lot of chemistry with Baby G. We came full circle. Right back to King Jammy's, the studio where I voiced my first song. I like that comfort song, I feel comfortable working down at Waterhouse.

Your first album, "Marshall Town", was released by VP. This contract was for one album only?
Yes, one album only. I didn't really like the way it was put together because I'm not the type of artist that want to compass songs of the road, and just put out an album. I want to make an album for collectors items, for people to have a treasure, you know? That's where I am now. At this stage of my career, I'm gonna create an album that is exclusive. Damian Marley is on production. It's a new era, a new stage of my career. I'm looking forward to it. Right now I'm currently in Tuff Gong studio with Damian, working day and night.

What did you learn, working with him?
Damian gave me a lot of focus on the album. I give thanks. Gong is young, is very close of my age, but he's been doing it so much longer… He is what we call the youngest veteran. He is a master; literally he is a master at what he is doing. He is a scientist and a Perfectionist. So it has toughen me, working with him and working close with Stephen as well. He is a real professional. I feel very good about the songs that we have put together. I am proud of this album and believe it will be a turning point in my career. Working with the Marley's is an experience of a lifetime. They are writers performers and producers that strive for Perfection every day. They have inspired me to lift my game and rise to the occasion.


Let's talk about Go Hard. How did you manage to get all the artists on it? You even had Kartel on the phone to do his part!
The Go Hard song will be featuring on the album as well. That was a great experience getting it together. I contacted everybody individually and nobody heard what the next artist had done on it. When we put all the vocals together and it was like a puzzle with all the pieces fitting together Perfectly. Kartel sent me a voicenote of his verse but was never able to actually voice it in studio because of his unfortunate situation. So i decided to drop it in anyway with his permission. It was like a movie everybody wondered how we got all these artists with so called "differences" on the same track but we are all connected by our experiences over the years and that power surpassed any past fueds that might have happened.

A next ganja tune is planned?
Yeah yeah always have the weed tunes dem! I have some bad weed tune to come out. Tarrus Riley and myself are working on a great record, more on the one-drop side. Good record, the name of it is Nah give up. It will be featured on my new album coming up. I'm very excited with the music I'm coming out with right now. I'm practicing keyboards as well, improving my musical skills and tuning my vocals. I'm in a much better place right now than where I ever was, musically especially. Since last year I've really gone into the instruments, into the theory of music. It's great! Understanding, widening the spectra…

You recorded many love songs recently, is it related to being married to Tami?
I guess you can say that… I wouldn't say that 90% percent of my songs are love songs though… Well, maybe it's just maturity. I've always have positive content, I'm not a negative writer. That con type of things has never been my thing. Of course dancehall is a hardcore business so you have to stay afloat and do what the masses kind of expect of a dancehall artist sometimes. But then I always like to step outside of what they expected as well and do different things, I don't like to stay in a box.

So marriage life has soften you?
(laughs) I would say mature! I'm more responsible for the content that I put out.


"I Know", taken from the album "True Colors" :